K-5 Leadership Offerings 
Our one-of-a-kind interdisciplinary academic & character development program provides students with grade-specific social emotional learning lessons that seamlessly integrate character development and life skills practice into the core curriculum. Every lesson features a theme that brings the lesson to life. Along the way, students will employ action-learning techniques like role-playing and small-group discussions and couple these techniques with reflective exercises that encourage them to apply what they've learned to real-life situations. 100% research-based curriculum, interactive and action-based, aligned to the core curriculum. 
Pick the full day Leadership Adventure to get the full 9-Areas of Leadership integrated into a fun, hands on adventure that will take your group indoors and outdoors. (weather depending)  
Group leaders/Teachers can also choose from one or more leadership areas to integrate into their trip to Adventure Point to create a custom adventure! All programs focus on teamwork, and best of all, all Adventure Point programs are based in FUN, so your student won't realize they are learning! 
Leadership areas: 
Respect
Responsibility
Honesty/Trust
Caring/Fairness
Perseverance
Self-Discipline
Life Skills
Courage
Citizenship
Programs will integrate one or more of the following focus areas:  
Academic, social, ethical, and character development
Critical and creative thinking
Conflict resolution and decision making
Interpersonal relationships
Practical life skills
Self-esteem
Writing and language arts
Citizenship and personal fitness
Program features: 
Group program offering format (field trip)
Choose the full day Leadership Adventure Field Trip that integrates all 9 leadership areas into a fun hands on leadership and teamwork day or integrate any of the leadership focus areas into your other Adventure Point field trip
Can be linked/integrated with other programs (STEM, Sustainability, Outdoor Adventures) to create a custom field trip Adventure! 
6-12
th
 Grade Leadership Offerings
Adventure Points' One-Day EMERGING LEADERS Program
Step into the Leadership Lab – a creative and dynamic learning space designed with the development of young leaders in mind. Students will explore a broad range of leadership concepts and perspectives while identifying how the core values we hold influence our personal
leadership style. During the day, we will practice putting the skills from our lessons to the test in our indoor/outdoor learning spaces where students will participate in collaborative challenges highlighting each style of leadership. By the end of the day, students will leave with their own leadership journal containing their notes from our activities, as well as a personal leadership vision and action plan they will work to craft!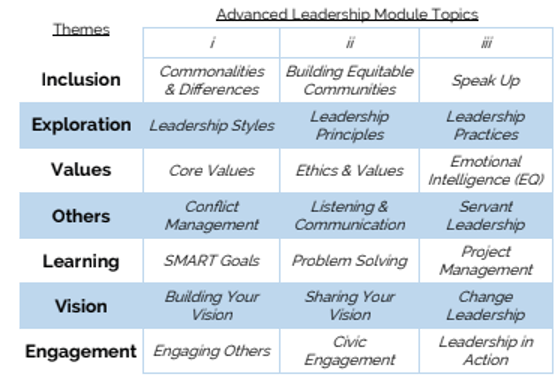 Summit Leadership Experience 
This high school age youth leadership experience will invite high school teachers and administrators to nominate emergent youth leaders to this cohort-based program. This program with a widely diverse youth make-up will participate in a year-long leadership development experience. This experience will include technical leadership learning, community leaders sharing time at our facility, and onsite at their locations throughout the community, as well as service learning, and high-adventure based leadership and team development opportunities. Completers of this summit experience will receive a certificate of completion suitable to reference on job applications or college applications.